(Reading Time: 25 min Approx)
Sunetra started packing her bags. She was going by the list and placing each item in her backpack. Suddenly, tears came down to her eyes as she took her pair of Ghungroos (a musical anklet tied to the feet of classical Indian dancers) on her hand. Since childhood, Sunetra's soul passion was dancing. Audience always loved her for her magical performances. Sunetra treasures every compliment she ever got but her much-loved one was given by her Guruji, "You dance like a peacock, my dear".
The Ghungroos took her down the memory lane but then she wiped her eyes and put them inside her backpack. It's been 2 years now; Sunetra works as a travel blogger, in Mumbai, Maharashtra. And after a lot of thinking and hard work she has decided to come up with her first self-funded travel blog project. This next one month, Sunetra will be traveling India to explore its each classical dance forms. She looked at her bedroom wall; it was filled with her pictures of her performances. She zipped her bag pack; took the keys and went to the shoe rack to put her shoe on. The shoe rack displays various shoes in single pair. She picked her trekking shoe and wore it on her right leg. Her left leg which has been replaced by an artificial limb doesn't need one.
It's been 2 years now, after the car accident but Sunetra looked at her shelf full of trophies and murmured to herself- "I still dance like a peacock Guruji, maybe in my dreams, but I still do. And I'm going to re-discover Dance – in its unique original art form, as is experienced in its true home, all over India."
Destination 1: Kerala
Next morning around, 11 o'clock Sunetra got down at Trivandrum Central, railway station. The cool breeze and greenery all around whispered to her ears – "Welcome, Sunetra! Kerala was waiting for you".  She opened her dairy and checked out the list she made last night on train. Her eyes sparkled as she realised this is going to be an experience of her lifetime.
Kerala has gifted India the two very exquisite dance forms that are- Mohiniyattam (1) and Kathakali (2).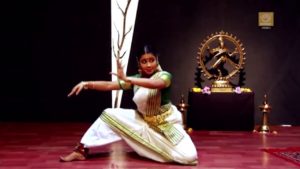 Mohiniyattam dance gets its name from Mohini – a mythical enchantress avatar of the Hindu god Vishnu, who helps the good prevail over evil by developing her feminine powers. It is traditionally a solo dance performed by women after extensive training.
The repertoire of Mohiniyattam includes music in the Carnatic style, singing and acting a play through the dance, where the recitation may be either by a separate vocalist or the dancer herself. Significant champions of Mohiniyattam in the 20th century have been Mukundraja, Krishna Panicker, as well as the guru and dancer Kalamandalam Kalyanikutty Amma.

Kathakali is a Hindu performance art in the Malayalam-speaking south-western region of India. It is a "story play" genre of art, but one distinguished by the elaborately colourful make-up, costumes and face masks that the traditionally male actor-dancers wear.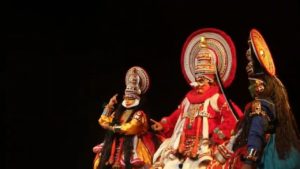 The traditional themes of Kathakali are folk mythologies, religious legends and spiritual ideas from the Hindu epics and the Puranas. Some of the great Kathakali artists are Nelliyode Vasudevan Namboodiri, Padmanabhan Nair, Vasu Pisharody.
Destination 2: Tamil Nadu
Sunetra will be heading to Tamil Nadu after her exotic days in Kerala. And there she'll explore one of the prestigious dance forms of India that is – Bharatnatyam (3).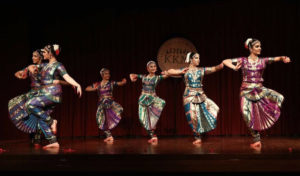 Bharatanatyam is a major form of Indian classical dance that originated in the state of Tamil Nadu.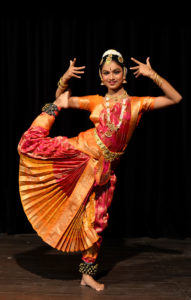 It expresses South Indian religious themes and spiritual ideas, particularly of Shaivism, Vaishnavism and Shaktism. Bharatanatyam's theoretical foundations trace to the ancient Sanskrit text by Bharata Muni, Natya Shastra.
Bharatanatyam style is noted for its fixed upper torso, legs bent, or knees flexed (Aramandi) out combined with spectacular footwork, a sophisticated vocabulary of sign language based on gestures of hands, eyes and face muscles. The attire of a Bharatanatyam dancer resembles a Tamil Hindu's bridal dress. The accompanying music to Bharatanatyam is in the Carnatic style of South India, as is the recitation and chanting. Globally appreciated some Bharatnatyam dancers are- Mallika Sarabhai, Yamini Krishnamurthy, Alarmel Valli, Padma Subrahmanyam, Rukmini Devi.
Destination 3: Andhra Pradesh
The next stop will be Andhra Pradesh for Sunetra. The motherland of one of the greatest dance form Kuchipudi (4).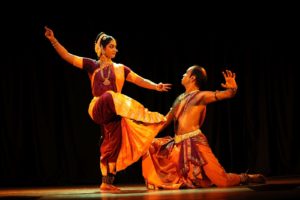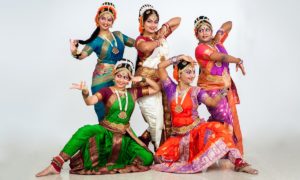 Kuchipudi is one of the major Indian classical dances. It originated in a village named Kuchipudi in the Indian state of Andhra Pradesh.
The Kuchipudi performance usually begins with an invocation. Then, each costumed actor is introduced, their role stated, and they then perform a short preliminary dance set to music (dharavu). Vocal and instrumental Carnatic music in the Telugu language accompanies the performance. The typical musical instruments in Kuchipudi are Mridangam, Cymbals, Veena, flute and the Tambura.  Kuchipudi is a team performance, with roots in Hindu religious festivals.
Destination 4: Odisha & W. Bengal
The journey that Sunetra started from South Indian region, will head to the Eastern region, to Odisha & West Bengal. Two beautiful and traditional dance forms that Odisha beholds are- Odissi (5) and Chhau (6).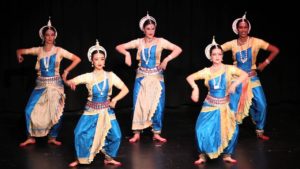 Odissi is traditionally a dance-drama genre of performance art, where the artist and musicians play out a mythical story, a spiritual message or devotional poem from the Hindu texts, using symbolic costumes, body movement, Abhinaya (expressions) and mudras (gestures and sign language) set out in ancient Sanskrit literature. Odissi dance is accompanied by Odissi music. An Odissi troupe comes with musicians and musical instruments. The orchestra consists of various regional musical instruments, such as the Mardala (barrel drum), harmonium, flute, sitar, violin, cymbals held in fingers and others. Kelucharan Mohapatra, Gangadhar Pradhan, Pankaj Charan Das, Deba Prasad Das and Raghunath Dutta were the four major gurus who revived Odissi in the late forties and early fifties. Sanjukta Panigrahi was a leading disciple of Kelucharan Mohapatra who popularized Odissi by performing in India and abroad.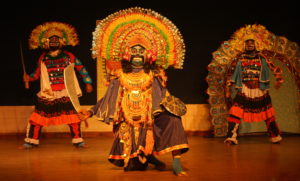 Chhau is a semi classical Indian dance with martial, tribal and folk traditions, with origins in eastern India. It is found in three styles named after the location where they are performed, i.e. the Purulia Chhau of Bengal, the Seraikella Chhau of Jharkhand, and the Mayurbhanj Chhau of Odisha. The dance is traditionally an all males troupe, regionally celebrated particularly during spring every year, and may be a syncretic dance form that emerged from a fusion of classical Hindu dances and the traditions of ancient regional tribes. The dance is amazing and brings together people from diverse socio-economic backgrounds in a festive and religious spirit.
Destination 5: Manipur
After the land of seas, Sunetra's next destination will be land of hills- Manipur to explore their unique dance form Manipuri (7).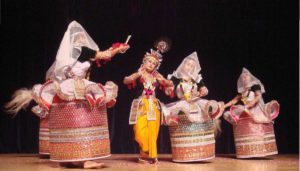 The roots of Manipuri dance, as with all classical Indian dances, is the ancient Hindu Sanskrit text Natya Shastra, with influences and the culture fusion between various local folk-dance forms. The Manipuri dance is a team performance, with its own unique costumes, aesthetics, conventions and repertoire. The Manipuri dance drama is, for most part, marked by a performance that is graceful, fluid, sinuous with greater emphasis on hand and upper body gestures. It is accompanied with devotional music created with many instruments, with the beat set by cymbals (kartal or manjira) and double-headed drum (Manipuri mridanga) of Sankirtan. The costume tradition of the Manipuri dance celebrates its more ancient artistic local traditions, fused with the spiritual ideas embedded in the love story of Radha-Krishna found in the tenth book of the Bhagavata Purana.
Destination 6: Assam
After Manipur the next obvious destination of Sunetra is Assam; a state with its own enriched culture; the land of colourful dance form Bihu (8) and Sattriya (9).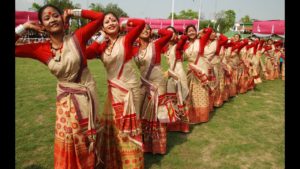 The Bihu dance is an indigenous folk dance from the Indian state of Assam related to the Bihu festival and an important part of Assamese culture. Performed in a group, the Bihu dancers are usually young men and women, and the dancing style is characterized by brisk steps, and rapid hand movements. The traditional costume of dancers is colourful and centred round the red colour theme, signifying joy and vigour. The Bihu dance takes its name from the Bohag Bihu festival (also called Rangali Bihu), the national festival of Assam, which celebrates the Assamese New Year. The festival takes place during mid-April and the Bihu dance is meant to celebrate and emulate the seasonal spirit, celebrating fertility and passion.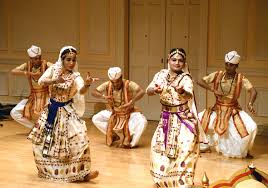 Sattriya is a dance-drama performance art with origins in the Krishna-cantered Vaishnavism monasteries of Assam and attributed to the 15th century Bhakti movement scholar and saint Mahapurush Srimanta Sankardev. One-act plays of Sattriya combine the aesthetic and the religious through a ballad, dance and drama. Recognized in 2000 as a classical dance by Sangeet Natak Akademi of India, modern Sattriya explores many themes and plays, and its performances staged worldwide.
Destination 7: Uttar Pradesh
And next, Sunetra will reach Uttar Pradesh, the land of Kathak (10); where she learned and became the Kathak dancer; she once was and always will be.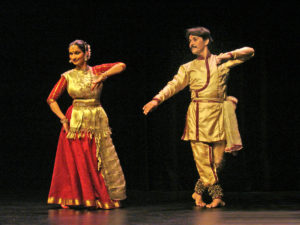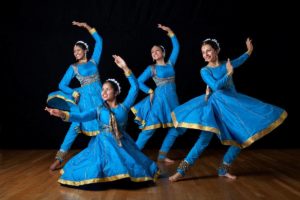 The origin of Kathak is traditionally attributed to the traveling bards of ancient northern India known as Kathakars or storytellers. Wandering Kathakars communicated stories from the great epics and ancient mythology through dance, songs and music in a manner similar to early Greek theatre. Kathak dancers tell various stories through their hand movements and extensive footwork, but most importantly through their facial expressions. Stylistically, the Kathak dance form emphasizes rhythmic foot movements, adorned with small bells (Ghungroo), and the movement harmonized to the music. The legs and torso are generally straight, and the story is told through a developed vocabulary based on the gestures of arms and upper body movement, facial expressions, stage movements, bends and turns. The ensemble of musical instruments varies with any Kathak performer, ranging from two to twelve classical Indian instruments or more in versions with synthetic innovations.
Destination 8: Kashmir
Sunetra has never been to Kashmir. This is another wish she'll be fulfilling in this very adventurous trip as she'll fly to Kashmir to witness their beautiful and unique dance form Rauf (11).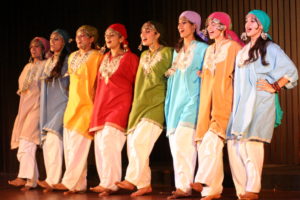 The Rauf is a folk-dance form which is mainly practiced by the women folk of the Kashmir valley. In this beautiful dance form, there are women who line up in two rows facing each other and perform this beautiful dance during the springtime in beautiful costumes. The dance originated several years back in order to celebrate the good weather of the spring season and also for the purpose of merriment in the various festivals like Id-ul- Fitr. The dance is being performed by the women in beautiful costumes and in a characteristic music. The dance is simple footwork which is also called Chakri in the local language. The dance form is practiced with the help of the mystical poetry which is being sung and the dancers dance to the rhythm of this poetry. During the major festival of the Muslims during the Ramzan month, the streets of Kashmir become pleasant with the help of Rauf songs and dance which are being performed by the Kashmiri women. This dance is also associated with the joy of harvesting. This dance form has earned huge appreciation nationally and internationally.
Destination 9: Punjab
The culture of Punjab has always remained fascinating for Sunetra. She remembered how she visited Punjab before her accident for her cousin's wedding and got totally awestricken by their two original and vibrant dance forms that are- Bhangra (12) and Gidda (13).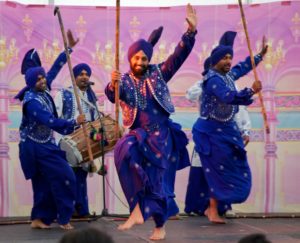 Bhangra is a type of traditional dance of the Indian subcontinent, originating in the Majha area of Punjab. The dance was associated primarily with the spring harvest festival Vaisakhi. In a typical performance, several dancers executed vigorous kicks, leaps, and bends of the body to the accompaniment of short songs called 'Boliyan' and, most significantly, to the beat of a dhol (double-headed drum). Struck with a heavy beater on one end and with a lighter stick on the other, the dhol imbued the music with a syncopated (accents on the weak beats), swinging rhythmic character that has generally remained the hallmark of any music that has come to bear the bhangra name. Bhangra was mainly done by Punjabi farmers during the harvesting season. In the past 30 years, bhangra has been established all over the world. It has become integrated into popular Asian Culture after being mixed with hip hop, house and reggae styles of music. Certain bhangra moves have adapted and changed over time but at its core remains a sense of cultural identity and tradition.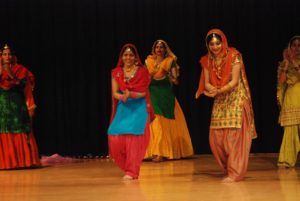 Gidda is a popular folk dance of women in Punjab region of India and Pakistan. The dance is often considered derived from the ancient dance known as the ring dance and is just as energetic as bhangra; at the same time, it manages to creatively display feminine grace, elegance and flexibility. It is a very colourful dance form which is now copied in all regions of the country. Women perform this dance mainly at festive or social occasions. The dance is followed by rhythmic clapping and a typical traditional folk song is sung by the aged ladies in the background. As Punjabi dance forms became codified in the 1960s-onward, bhangra and giddha competitions have become popular throughout Punjab and the Punjabi diaspora. Punjabi dance forms have also spread through collegiate-level dance troupes in Punjab since the 1960s and in South Asian student groups in the US, UK, and Canada since the 1990s.
Destination 10: Rajasthan
As she turned to the next page of her dairy, the list denoted another dance form that is Ghoomar (14). Rajasthan, a land of heritage and culture can't be missed at any cost.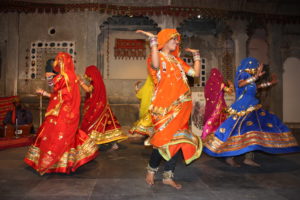 Ghoomar is a traditional folk dance of Rajasthan. It was Bhil tribe who performed it to worship Goddess Sarasvati which was later embraced by other Rajasthani communities. According to the traditional rituals, newly married bride is expected to dance ghoomar on being welcomed to her new marital home.  The dance is chiefly performed by veiled women who wear flowing dresses called Ghaghara. 'Gangaur Ghoomar Dance Academy' was established by Maharani Rajmata Goverdhan Kumari of Santrampur in 1986, to preserve and promote Ghoomar folk dance. s a traditional dance, Ghoomar often includes traditional songs such as "Gorband", "Podina", "Rumal" and "Mor Bole Re". Ghoomar is often performed on special occasions, such as at weddings, festivals and religious occasions.
Destination 11: Gujarat
After Rajasthan, Sunetra will head to Gujarat that has given India a blissful seat in the global platform with its prestigious dance form Garba (15).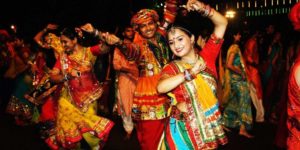 Garba is a form of dance which originated in the state of Gujarat in India. Garba is a Gujarati folk dance celebrated in Navratri, a celebration lasting nine nights. Garba is performed in a circle as a symbol of the Hindu view of time. The rings of dancers revolve in cycles, as time in Hinduism is cyclical. As the cycle of time revolves, from birth, to life, to death and again to rebirth, the only thing that is constant is the Goddess, that one unmoving symbol in the midst of all of this unending and infinite movement. Garba songs typically revolve around the subjects of the nine goddesses. Garba styles vary from place to place in Gujarat. Garba and Dandiya Raas are also popular in the United States where more than 20 universities have Raas/Garba competitions on a huge scale every year with professional choreography. The Canadian city of Toronto now hosts North America's largest annual garba by number of attendees.
Destination 12: Maharashtra
And a journey that started from her present home will end there too. After conquering the entire India Sunetra will return to her city Mumbai. And last but not the least; she will promptly dig up the history and wonders of the famous Maharastrian Dance form 'Lavani' (16).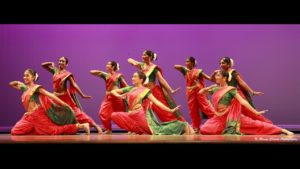 Considered to be responsible for the development of Marathi "folk theatre" is a dance form in India known as Lavani.  This highly "rhythmic dance" has originated from the state of Maharashtra and is also performed in southern Madhya Pradesh and northern Karnataka. It is said that the word "Lavani" is derived from "Lavanya" which when literally translated means "beauty". Furthermore, this dance style possesses two distinct forms namely "Phadachi Lavani and Baithakichi Lavani". Since the major performer in a Lavani is female the costume mainly used is a nine-yard saree referred to as "nauvari". In addition, this dance form through the use of music, essentially talks about socially relevant subject matters such religion, politics, and romance.
Sunetra closed her dairy. Her eyes lit up in excitement. She realised no matter how many times life breaks you, you can always get up and fight back. You can always choose to say- "I am not done yet." With a smile on her face Sunetra took her backpack and started walking; she was happy knowing new adventures are waiting for her.
Please follow and like us: