Kala Ratn – Sonjaye Maurya
(Reading Time: 19 min Approx)
A childhood filled with drawing and painting, winning numerous awards, including prestigious President and Prime Minister of India's awards, Sonjaye Maurya graduated from Sir J. J. Institute of Applied Art in Commercial Art and Photography. Bringing imaginations alive on canvas has always been a consummating passion for him. His constant companion always have been art in various forms. Lost in day to day hustle bustle of life this companionship was finally rekindled one day.
Sonjaye Maurya made his first painting in the month of December, 2014. And thus started a new journey. It has not been easy for him to take this drastic decision and make another beginning as an artist at that age. He had a family to look after. And in general artists are not understood by family people and the society at large. But his wife and son have been very strong pillars of support.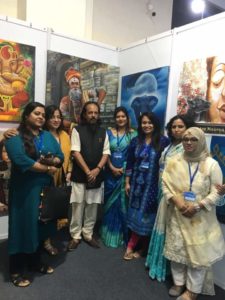 He had no formal training in fine art (Painting), nor had someone to guide him. But as he was determined enough to make a mark as an Art Icon he studied on his own, painted and went on improvising. And in a short span of 5 years he made a niche of importance for himself in the creative world. In his words, "How I wish, I had been mentored and had a God Father. But I was not that fortunate." This made him take the step to help fellow artists, in all possible ways by guiding and promoting them.
Today Sonjaye Maurya, is a name to reckon with, an eminent artist with international recognition, is a master painter, a colourful persona, an artist with a difference, a painter who always has good in mind for the artists and works towards their development and promotion.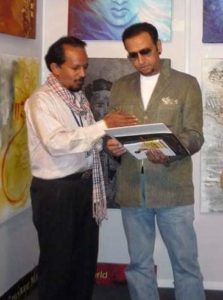 He is an inspiring story of a self-taught artist, a businessman who shuts down all his business and decided to follow his passion for art and to dedicate his life to art and artists. A story of rise to success in a short span of five years with dedication, devotion, proper planning and understanding of business, marketing, branding etc.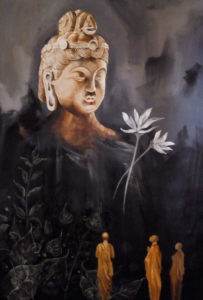 His works have a mysterious quality – a magical touch that makes them stand apart from the works of other contemporary artists. Everything that he paints has a deep meaning and message in it. May it be Buddha or even if he is painting fishes or a landscape. His works are many a times a transformation from realistic to abstract and vice versa.
Sonjaye Maurya deals with artistic perceptions about the human feelings and the different realms of life. His works explore the artistic transition from traditional to modern in vibrant colour palettes. His paintings reflect on fantasies and dreams. According to him, a painting is a dream that you see on an empty canvas.
His works are a result of vast experimentation with medium, style and techniques, and in-depth study of the subject. Many of his works are neither realistic representation nor abstract. They can't be categorized to any specific school of art.
He states, "I am not a supporter of what we call a 'style' but believe in combining and experimenting with different mediums and techniques, be it gouache, water colour, ink, acrylic, crayons, pastels, graphite powder and pencil. Tools of painting is not only limited to brushes but knives, blades, fingers and thumb, etc. in innovative ways. Each material, technique used and applied adds its own element of interest and makes every painting unique in its own way."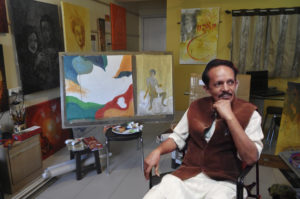 He describes his works as – "My work tries to discover the meaning of life, which though not simple is rather intricate and perplexing with many parts amazingly interconnected. Journey through various stages of life shapes us through its experiences, perspectives, soul searching quests, beliefs and creates an insatiable yearning to give meaning to a fruitful existence.
My painting explores these nuances of existence and brings forth the joys, perplexities, beliefs, realities of life in a manner that provoke viewer's thinking. They reflect an inspired appreciation of the different aspects of life and hence I use versatility in every creation through diversified themes, colours, ideas, stylization that suits the concept and subject.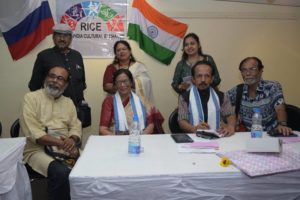 Acrylic, gouache, drawing, knife, or brush… each media or technique gives a special feel. That's why each painting has a special treatment depending on the type of message that has to be conveyed.
I take inspiration from every feeling a human can experience. My muse is my love for and hope in life…even in the worst scenarios.
Pursuing art is an enriching and a fulfilling experience as it allows to unite the elements of art, nature, artist and the viewer. It has led to self-realization and to the very core of my existence."
He is also a part of growth and development of art scene. His works are entirely different from others with sensitivity and lyricism of poetry. He understands rhythm and harmony. His concentration is on creative pursuit rather than commercial aspect. There is no diversion of mind.

He also works extensively on subjects related to 'Spirituality' and 'Buddhism', and themes that help us elevate life. Sonjaye Maurya is also one of the pioneer Indian Contemporary artists working on 'Buddha' and 'Ganesha'.
The Big Challenge:
Then the next crucial step was to promote himself. He has participated in umpteen number of art events and exhibitions. But somehow he was not happy with the way, things were happening in the world of art promotion. Our experiences from the past justify our attitude towards life. As he has been of a kind and helping nature since ever, he decided to do something and take this step to work for the welfare of aspiring artists.
But then even this journey has not been very easy. He approached many affluent resourceful people and established artists seeking support, but to no use. People are too busy with themselves and don't have time and will to help others. They are also scared to some extent, that someone might cross and achieve greater success than them. The problem is you walk miles for the people, but they won't even walk two steps for you. But then, if we don't help ourselves, who else will….. ! He decided to put up a lone fight.
With this intention, he founded 'Sonjaye Maurya Art World' and 'Creative Art Affairs'. And started curating and organizing various events. These are initiatives to appreciate and promote young and upcoming artists. The groups have Futuristic vision and trend setting goals. And have been tirelessly yet zealously working for the core development of art and artists. The events organized by the groups and artists launched on platforms of repute were well received and highly appreciated.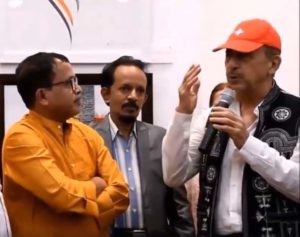 'Sonjaye Maurya Art World' and 'Creative Art Affairs' help in its quest to discover new talents, providing them platform by organizing various art activities. There is continued effort on the part of the groups to find and cultivate dynamic, young contemporary artists who have the potential to contribute substantially to the understanding of art given the right environment and direction.
The groups seek to promote contemporary Indian art and strive to deliver this by creating opportunities for the artists. Their motto is to promote excellence and innovation in all aspects of its work and explore the unique contribution that the art can make to our understanding of contemporary.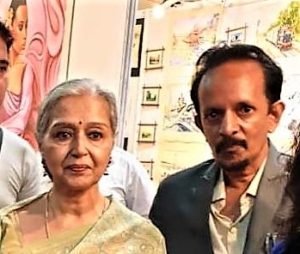 'Sonjaye Maurya Art World' and 'Creative Art Affairs' are non-profit making groups, for artist by artist, whose objective is to launch aspiring artists on the big platforms along with reputed and eminent artists at nominal charges, so that they can reap the same benefits enjoyed by renowned artists. To help them make contacts with the big galleries, art connoisseurs, art dealers etc. and interact and learn from big artists.
The events organized by the groups have a mix bag of established and aspiring artists and are received well and highly appreciated. They have been very promising and helpful. And have been a guiding force for the new artists by helping them chart their direction of painting, to set style, learn to promote themselves etc. The event have been path breaking for the careers of many participants and have got huge recognition to some of its participants. He says, "Leadership is Action, Not Position. And enjoys sharing knowledge, helping and guiding other artists.
He is also a team member of 'Indian Art Promoters' (Kalaa Spandan Art Fair). The 'Indian Art Promoters' team found his vision and motto to be very bounteous and a great step towards helping new artists and extended all support to launch aspiring artists on this platform of international repute. And year after year, Sonjaye Maurya introduced new talents to the art world through this platform and his other events.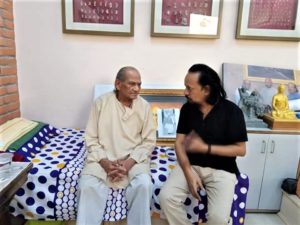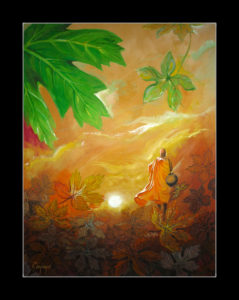 He never makes himself a priority. He is a true friend of artists of all age group. He is caring and friendly. He is gentle and knowledgeable. Any artist from anywhere can approach him for guidance and he obliges. He is very calm and soft spoken person, is easily accessible to all artists established or aspiring and respects their feelings. He spends time with artists and encourage them. He tells artists to work sincerely and not to be part of the rat race.
He is also a photographer, a traveler, a writer and a poet. He mentions "Travelling different places give me a platform to observe and rekindle a passion to bring alive life's nuances on canvas."
He write articles on art subject, to help fellow artists learn and improve their works. And also he describes finer nuances of art promotion etc. He also writes sort stories and poetry in Hindi, mainly expressing human feelings of love, separation, themes related to day today life etc. His works of writings have been published worldwide in many books, magazines, journals etc. He is always a voice to things happening around us and affecting lives, with his medium of painting and writing.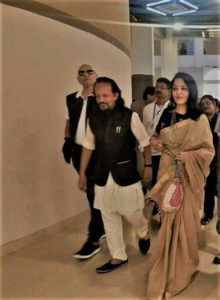 Sonjaye Maurya has many national and international awards to his credit, including many Golds, prestigious 'Kala Ratn' and 'Swami Vivekanand Excellence Award' by Ministry of Sports and Youth affairs. But he says… Best is yet to come. He is also a 'World Peace' and 'World Humanity' Ambassador. He is not insecure and egoistic. He loves to spread love and happiness. His group 'Creative Art Affairs' has been recognized by 'WALHAC' (World Academy of Literature, History, art and Culture)- Maxico. His works have been appreciated by world renowned personalities like Padamshree, Padma Bhushan Indian Sculptor Ram V. Sutar, who also designed the world's tallest 'Statue of Unity', FIAS International (USA), Pujya Mahant Swami of BAPS International (Swami Narayan Temple) and many others.
People love me for my nature and behavior, more than they respect me for my works and achievements. And that is a much greater attainment for me, adds Mr. Maurya.
He has also nominated a number of Indian and eminent personalities from abroad, working in the field of art, literature and engaged with social activities for prestigious awards, for their contribution to the society.
As despite getting Prime Minister and President of India Award at the age of 14 and 15, he could not pursue education and career of his choice, that was a  Degree in Fine Arts, due to family circumstances and social mindset, he always tells parents to let their children do, what they love and like best. As they will do far better in a career of their choice and have a happy life.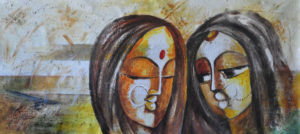 Please follow and like us: