Dhanyakuria: Kolkata Tourism Archives
(Reading Time: 9 min Approx)
Who doesn't like weekend trips and in this busy got-to-go life finding an exquisite spot nearby is like a hidden treasure. If you are bored visiting, the same old beaches or hill- stations then buckle up folks; I am about to reveal a destination that can charm your eyes with views of country sides, none other than in Bengal!
This weekend instead of picking up common getaways visit to the Dhanyakuria, that has been termed as 'The Castle Village of Bengal' by many travelers. Yes, you read it right! If you love exploring then this place is definitely going to blow your mind. If you can imagine a bowl of English salad served in Kanshar Bati (Bowl made of Bell metal) then Dhanyakuria can definitely be your 'Berkshire' in Bengal.
Film by: Cinema for a Cause, Abhishek Ganguli
Where is it?
Dhanyakuria is about 30km from Dum Dum. It takes two hours to reach Basirhat from Dum Dum and another 30 minutes to reach the village. It is located 33 KM towards East from District headquarters Barasat. This Place is in the border of the 24 Paraganas North District and Nadia District.
Eight families of Zamindars belonging to different castes once held sway over the village of Dhanyakuria. Though there reign has been perished due to the abolishment of Zamindari system but the palaces they constructed, showcases some of the refined and breathe-taking architecture that are nowhere to be found in any other place of Bengal.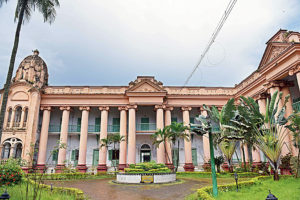 How to reach?
Trains are available from Seladah station to take you to this land of Fairy-tale. Get down at Basirhat station and hire an auto-rickshaw furthermore. Also, Malatipur Railway Station and Ghovarash Ghona Railway Station are the very nearby railway stations to Dhanyakuria. However, Barrackpore Railway Station is major railway station about 45 KMs from Dhanyakuria.
But if you want to enjoy the journey more, taking the road is the best way. Hire a car or go for a long drive with your family and friends taking the Basirhat-Taki road. Night stay is not required there, thus it can be your perfect escape plan from your busy life.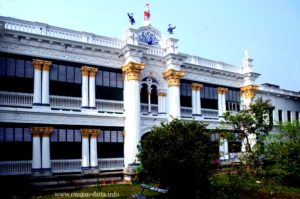 About the place:
Once a part of Sunderbans, Dhanyakuria was converted into a proper settlement for living in 1742 when one Jagannath Das settled here with his family. Likewise families of many traders like Mandal, Gayne, Sawoo and Ballavs came and settled in the village and became affluent. . Each one of them constructed mansions to portray their royalty and flamboyant lifestyle that are now the major attractions of Dhanyakuria.  The area was famous for Rice and Sugarcane. Vaishnav culture was predominant in the area.
The very first construction that can catch your eye is, a massive Rashmancha (Figure like an open auditorium). The structure holds resemblance with Navaratna temples of Bengal; except that the nine-tower structure supported on Corinthian pillars bunched together is perhaps the only one of its kind. These styles of pillars are rare to be found in such type of construction revealing the uniqueness of it.  The structure has five arches on each side of the ground floor supported by pillars. The first floor has three arches. Each floor has four towers and one on the top. It has cast iron railings on top with floral designs.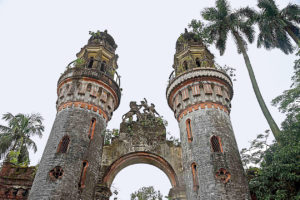 The Singha Darja or the lion gate is a landmark palace of the village. The gate with two towers and a Greek God fighting a lion is a remarkable structure. This palace now houses a state-run orphanage.
Another attraction of the village is Gayen Bari, a majestic structure built in a style that is a fine blend of neo-classical and Indian forms. Gayen Bari has a tower called Nazar Minar (Watch tower) that is built on Corinthian pillars with Islamic arches on the top floor. The dome on top is clearly influenced by prevailing 19th century Western styles. The palace is L-shaped. Twenty-one Ionic columns adorn the front. The house is crowned by two massive domes emblazoned with coats of arms. The palace gates resemble the portals of a Roman temple.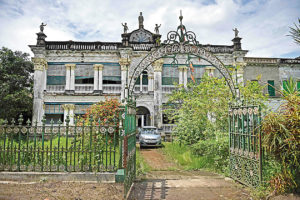 The temple of the presiding deity of the family at the end of the palace can be seen from any room within it. The temple houses a Radha-Krishna idol. The building is painted pink and is well maintained. An overhanging balcony connects all the rooms from one corner to the other.
Ballav Bari in Dhanyakuria was built nearly 200 years ago by Shyam Ballav. Another palace with dolls on the main tower should not be missed. It is adorned with railings in western designs. Also, the Sawoo family has built a Thakur Dalan (An open ground to worship deity) that can be another example of their heritage and culture. The place holds so much more that can't be executed by words.
Last but not the least, plan your visit in this very weekend and explore Dhanyakuria on your own way. Let the vast landscapes, the mysterious passages, and delightful artistry take you to the Victorian era by providing some gothic chills and adventurous feeling down your spine.
Please follow and like us: