Ishwar Chandra Vidyasagar
Bi-Centenary celebration of the greatest stalwart of Bengali Culture & Language
(Reading Time: 15 min Approx)
A short heighted Brahmin was walking along a footpath in the Bowbazar area of Kolkata. Suddenly hearing a high-pitched wail and seeing a crowd on the footpath, he came to a halt. The cry was of a woman who had just lost her husband and was mourning. The Brahmin on asking other people got to know that the widow had five kids and had lost her husband who was the only source of livelihood. Besides, they did not have any savings left. The widow was wailing thinking about the imminent financial crisis she will face.
After hearing everything, the Brahmin went away. He returned after two hours. He climbed up the stairs and went into the attic in the terrace where the family stayed. Pushing through the crowd of women, he approached the weeping widow and said to her, "Ma, don't feel so distressed. Your husband was a special friend of mine. He used to leave with me small amount of money from his earnings every month. Those savings, with interest, currently amount to Rs. 7000. Please take this money. You and your children can live comfortably. You would be able pay your rent too. Make sure that your children get proper education. And if your eldest son scores good grades in the school leaving examination, I can get him a decent job. You have no reason to worry".
This was Vidyasagar; the vast sea of kindness. A noble man once said about Vidyasagar that if all his knowledge, intelligence, dedication, penchant for education, facility in writing, his activities like establishing schools and widow remarriage tradition were taken away, save his kindness, that would be enough to make him a legendary figure. This indeed is no exaggeration.
Vidyasagar lived in a house in Baadurbagan, Kolkata that is currently known as 36 Vidyasagar Street. Sometimes he used to go out on errands at night. His constant companion was his servant. On one such night in winter as Vidyasagar was going out for a work, his servant who stayed with him throughout, wrapped two shawls around his shoulder. When he protested, the man said, "If you see a poor man suffering from the chill of winter, you will give one shawl to that person. If you take two, you will at least have one shawl on your body."
And greatness? One example would suffice. Vidyasagar was writing a treatise on Mahabharata. The first few chapters were complete. One day, an old friend of his came to his house. On hearing that Vidyasagar was writing a piece on the Mahabharata, he said, "Oh, Kaliprasanna's bad luck!". When Vidyasagar asked for the reason, his friend said that Kaliprasanna Singha was writing a translation of Mahabharata. But who would read Kaliprasanna's treatise if Vidyasagar wrote one on the Mahabharata?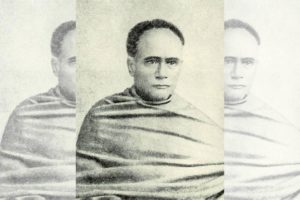 The next day Vidyasagar took all his manuscripts on Mahabharata and went to the home of young Kaliprasanna Singha. He said to Kaliprasanna that if he found it convenient, he could use those manuscripts to write the Mahabharata. For some personal reasons Vidyasagar would no longer be able to translate the Mahabharata. However, he would be eager to edit and proofread Kaliprasanna's work if he so desired. After Kaliprasanna had completed writing the treatise, Vidyasagar burnt his midnight oil and reviewed and edited the manuscript with dedication even though he had loads of work of his own. Never did he claim any credit for this generous assistance.
He was so impressed with Madhusudhan's talent that despite knowing that Madhusudhan had a spendthrift nature and led an undisciplined life, he lent money every time Madhusudhan asked for it. Once a drunkard asked for money from Vidyasagar to buy liquor. Vidyasagar refused. The man remonstrated, "You provide Madhusudhan with money to buy alcohol, why won't you give me too?". Vidyasagar replied, "If you can write a Meghnad Badh Kavya, show that to me, I will give you money".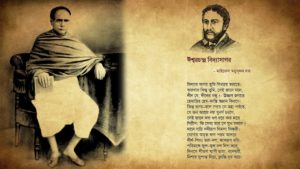 In the last period of Madhusudhan's life, he was almost penniless. However, his undisciplined life and drinking continued. He went on borrowing from Vidyasagar and after a point even Vidyasagar was unable to provide him with money. He himself had to borrow from people to give it to Madhusudhan. Vidyasagar's loved ones would ask him the reason of doing this unreasonable charity. He replied, "This talent would not appear a second time. Nobody in Bengal has the capability to enrich Bengali Literature in the way Madhusudhan does. That is why despite knowing everything, I support his indulgences".
This same Vidyasagar was so harsh and merciless at other times. He had established the Metropolitan School where the writer of Kathamrita, Sri Mahendranath Gupta was a teacher. But he was always late in coming to school. Despite knowing that he was busy writing a biography of Sri Ramakrishna, Vidyasagar did not spare Mahendra and fired him. How could Vidyasagar tolerate indiscipline?
Vidyasagar had to struggle a lot in his childhood. At the age of nine he used to cook for his father, brother and himself and then go to school. The client's house at which his father stayed had its floors broken where numerous cockroaches and other insects lived. Vidyasagar used to take his plate of food and sit in the veranda and guard his plate from all sides from the insects, eat one or two morsels hurriedly, wash the plate and rush to school.
As he could not afford a lamp at home always, Vidyasagar used to study under the street lights in the evenings. Despite these ordeals, if by chance he fell asleep while studying, he received severe beating from his father, Thakurdas. He would get beaten by him to such an extent that Thakurdas's client, Jagatdurlobh's sister, Raimoni would come running hearing his screams and stop Thakurdas to say, "Thakurmoshai, you go somewhere else. In this house slaughtering cows is not allowed." Those days killing a Brahmin was equivalent to killing a cow. Raimoni was afraid that someday Vidyasagar, a Brahmin, would die from his father's beatings.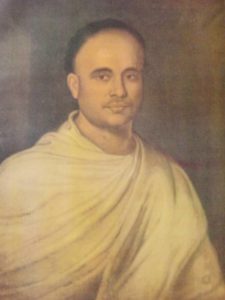 Vidyasagar revered this woman, Raimoni, greatly. Even in his old age, tears would well up in his eyes talking about her. He had penned this fact down in his autobiography.
Varnaparichaya, Badhodaya, Kathamala, Vyakaran Kaumudi to Betal Panchavingshoti, Sitar Vanabasha, Bhrantibilas, Shakuntala- Vidyasagar had wrote nearly 50 books. He had established almost 55 schools, among those 35 model schools for women. He had wandered across several districts in order to propound women's education. His vision was to promote education among women so that they could earn their own livelihood and spend their lives the way they desired. The weavers of Shantipur would write with threads 'Long Live Vidyasagar' all along the bottom most rung of saris. In the contemporary society, women of Bengal are leading their lives with respect, receiving education and spreading the light of education among their children and other boys and girls. Undoubtedly, the whole credit goes to Vidyasagar.
In about 71 years of his life, this magnanimous polymath faced bitter opposition from a large section of society. This caused him immense pain. Even after dedicating his whole life to the development of the society, Vidyasagar had to endure criticisms quite often in the latter half of his life. Lethels (men who wielded wooden sticks) were hired to kill him. Vidyasagar went to the man's house who had hired those goons and said, "I heard that you have hired lethels to kill me. I present myself to you. Come on, kill me." He did not care the least about the wealthy or the powerful. He never flinched from fighting injustice and wrong doings in the society.
This same Vidyasagar in the summer would cut up mangoes himself and serve them to the guests who came to his house. He loved mangoes and would buy several varieties of mangoes all over summer. He would serve different varieties to his guests and ask them which one they found to be the most delicious.
On one hand he was a strict disciplinarian, almost a martinet, on the other he was kind and generous. His struggles, accomplishments, personality, nobility are still held up as an inspiration to today's generation. But, regretfully, we have not been able to follow in his footsteps.
Nirad. C. Chaudhuri had once written a collection of essays about the most prominent personalities of Bengal. However, Vidyasagar was missing from it. A journalist asked Nirad. C. Chaudhuri the reason of this exclusion. He laughed and said, " Vidyasagar was not a Bengali. That is why I did not include him. Vidyasagar's bravery, strength of character, morality, dedication is impossible to find in a Bengali. A Bengali is timid, jealous, self-centered and limited to their own family bounds. His mother tongue may have been Bangla but Vidyasagar cannot be called a Bengali."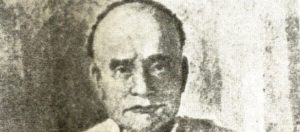 Ramendra Sunder Trivedi had written in an essay about Vidyasagar, "To see small things in a magnified way, humans have invented the microscope. But an instrument to view big objects as small was not considered necessary by them. According to me, if one desires to see large quantities in a midget, if one wants to see all the good qualities of man reflected in one single being, one should read the biography of Pandit Ishwar Chandra Vidyasagar."
Ramendra Sunder could not have been nearer to the truth. Vidyasagar was, truly, the living example of the phrase, "flame within the ocean".
— Original essay in Bengali, translated by Sruti Purkait
Please follow and like us: