– Reading Time – 12 Min Approx
Art thrives in a prosperous society. That is why in the long history of thousands of years, it is only the last few centuries that India has been struggling with its political and economic turmoil and therefore is unable to appreciate and establish its Art in the global footprint. Till the medieval ages, Indian Art Standards has set the bar very high. But in the last 200 years, Indian Art especially Fine Arts, or to be more precise Paintings have been doing less global business. That is why Anthelion School of Art decided to organise its National Scholastic Fine Art Competition this year with a national footprint. Ideas was to establish a nationwide platform to identify talent and thereafter nurture and promote them nationally & internationally.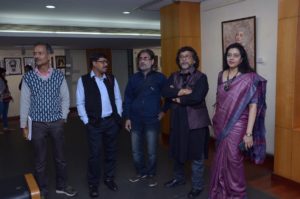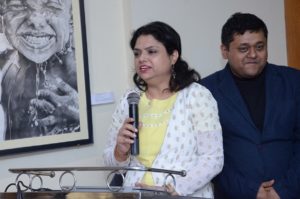 On 26th December 2019, at Jamini Roy Art gallery of ICCR Kolkata, Anthelion School of Arts concluded their first 'National Scholastic Fine Arts Competition – 2019-20' for Art Students & Professionals from all over India. The exhibition took place from 26th December to 28th December 2019. The program was launched in July 2019 and in duration of 5 weeks a total of 307 artworks from almost every nook & corner of India were submitted in this competition; among which 65 made to the first-round review.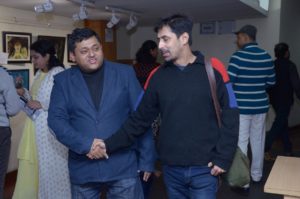 Anthelion's playmaker Dipayan Banerjee said – "It has been highly difficult for our 1st round judges to select 65 artworks among the 307 submissions. Because all of them were very creative and equally worthy for selection. But for the purpose of the competition we somehow managed this tough task. To us everyone is a winner- A true artist."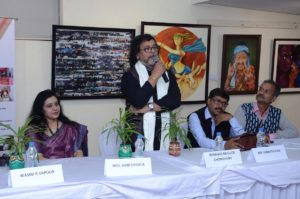 The participants were divided into two categories – Junior category (from age 7 to 16) and Senior category (from age 17 to 90). The two themes of the exhibition were Water & Woman and a participant had to choose any one and develop his/her artwork on that chosen concept. Anjan Bhattacharyya, an eminent Artist, Judge and mentor of Anthelion School of Art said- "Though these two concepts were given as distinctive themes, but I somehow believe both of them are like two sides of a coin. Water is the source of creation in natural world. And Woman is the creator in Human world. I am really happy to see how every artist has portrayed their choice of theme with their innovative sense and uniqueness."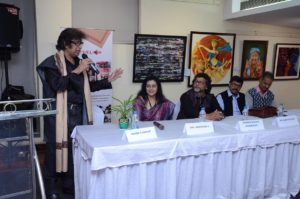 The exhibition started by felicitating the honorable guest artists and judges. The first panel judges were the mentors of Anthelion School of Arts – Prasanta Chandra, Anjan Bhattacharyya, Suman Chowdhury etc. In the second level judgement was done by renowned legendary artist Mr. Wasim R Kapoor. And to guide and award the winners artists of international repute Mrs. Vani Chawla, Mr. Debashis Mullick Choudhury and Sculptor Mr. Subrata Paul were present. After the felicitation, every judge & guest addressed the participants and audience on their own exquisite and humble manner.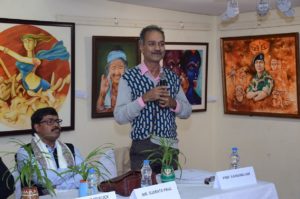 From every nooks and corner of India participants came to attend the exhibition. The prizes awarded to the junior category winners were – Rank Certificates and Cash prize worth- Rs 15,000 (1st); 10,000 (2nd) & 5,000 (3rd) and joint Exhibition in Kolkata. In the senior category the prizes were- Rank Certificates & Cash Prize worth – Rs 15,000 (1st); 10,000 (2nd) & 5,000 (3rd). Solo Exhibition in Kolkata for the winner securing 1st position (whenever he/she is ready), and Joint Exhibition for 2nd & 3rd in February 2020 in Kolkata is what was the most unique prize for this event.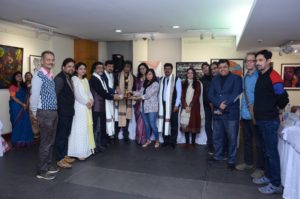 This is probably the first competition in the history of Indian Fine arts that awarded an entire exhibition opportunity as the prize for the winners. "We have the urge to not only identify talented artists through competition but also giving them opportunity to showcase their talents to the world by working with them in future, and this is what makes Anthelion School of Art stand out from every other institution" said Dipayan Banerjee.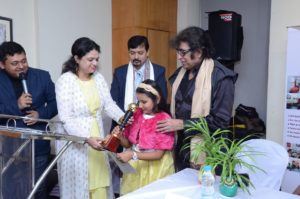 Jesal Ritesh Khatod (7 years old) from Aurangabad secured 1st position in the junior category with her artwork based on the theme water. In the 2nd position was Niemisha Sharma from Ghaziabad and Shruthika Panchgale in the 3rd position from Aurangabad. The winners were awarded certificates and mementos by the fellow mentors as a symbol of appreciation to their hard work.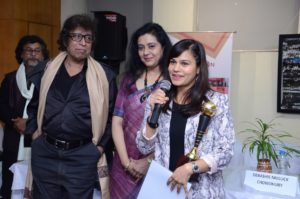 In the senior category, Somya Gupta from Kolkata secured the 1st place with her remarkable artwork portraying the theme woman. When interviewed Somya said – "A woman can do anything. They are strong and capable of high intelligence as well as indomitable spirit to fight back in any circumstances. Thus, I dedicated my painting to every woman all over the world for not accepting defeat in life and stand for her ideologies."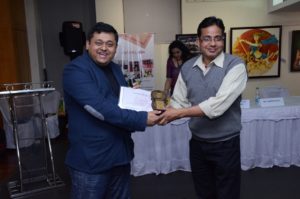 In the 2nd position Prasenjit Patra from Boro Belu and Soumyajit Das from Kolkata secured the position jointly with their marvelous artworks. Also, Dipak Das and Arindam Mazumder secured 3rd position jointly. Participant Dipak Das astonished all with his standout artwork in the medium of "Pyrography (Wood burning art)" featuring repression of womanhood under the pillar of Patriarchy as his theme.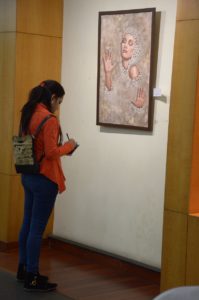 All the artworks, whether it was of the rank holders or any other participant's, had only one thing to say that India has always been a country of culture, art and creativity. Mentor & Judge Suman Chowdhury said – "It is astonishing to see the talents in this exhibition because there are artists who have done remarkable, in spite they're less experienced than other participants in the same category. Which shows how highly they are improving and it's a pleasure for Anthelion School of Arts to be a part of their journey".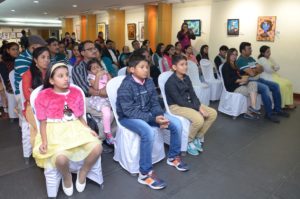 And last but not least, Mr. Wasim R Kapoor addressing young and budding artists said – "Be an artist who paints for himself not for appreciation, awards or prizes. Though I have selected the winners myself but to me every participant who came out of their shell and dared to show their work to the world is a winner no doubt. I am grateful to Anthelion School of Arts for giving such a platform to artist of our country. It's been only 2 years and 7 months this school took their step in the field of fine arts but it's surprising how highly they've excelled in such a short time span with national & international students and so many exhibitions and national level events. I wish all my luck to them for more expansion."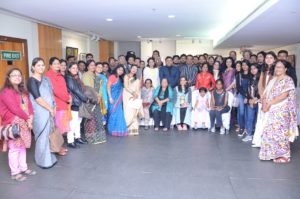 It was an evening of Life full of Art. The weather was cold outside but every person present, at the Anthelion National Scholastic Fine Arts Competition 2019-20's Final Round Exhibition left with smile on their faces and warmth in their heart.
Please follow and like us: