– Reading Time: 9 min Approx
Anthelion School of Art organised their second Annual exhibition, 'The Strokes' from 10th to 12th January 2020 at the famous Jamini Roy Gallery, ICCR, Kolkata. The exhibition ran for 3 consecutive days and can predominantly proclaim itself as a huge success for its over 44 students who took part in this exhibition with their vibrant and exquisite artworks. The exhibition showcased 65 artworks belonging from mediums such as – acrylic, clay, charcoal, pencil, water colour, mixed media, collage & alcohol on mainly canvas & sheets.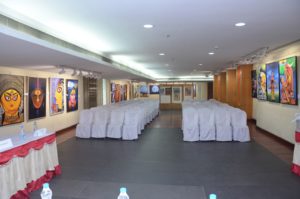 The opening day began with Anthelion School of Art's co-owners Dipayan Banerjee & Shashi Sharma addressing the present audience as well as the guests. The opening ceremony started from 4 pm onward by felicitating the guests with shawls, saplings and gifts. The famous sculptor Mr. Niranjan Pradhan attended the exhibition as a chief-guest-of-honour along with eminent artist Mr. Wasim R Kapoor as the chief mentor of Anthelion School of Art. Having two of these extra-ordinary personalities together was an overwhelming experience for the entire Anthelion family.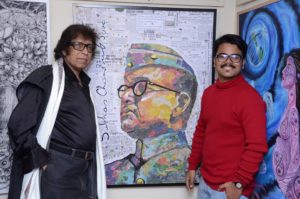 "I have been associated with Anthelion school of Art since a long time now. And it gives me immense pleasure seeing how fast they're growing. They're soon to become an international level competitor in the field of fine arts and this exhibition is a vivid example of that."– said Wasim R Kapoor. Personalities such as sculptor Manabendra Sarkar, Sujoy Shome (illustrator of 'Sandesh'), Raj Banerjee (Film maker & director) were also present at the opening ceremony as guests.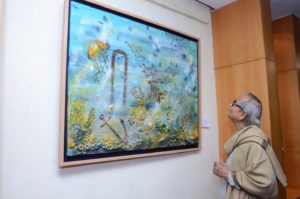 Mr. Niranjan Pradhan, the senior most among the invitees, was awestruck by the artworks of the students which were mostly 4 feet by 3 feet canvases. He was seen interacting with them personally on their artworks. "I am happy to witness such a beautiful portrayal of artistic measures. Every artist tried to create an identity of their own; which is very important at their growing stage. Kudos to the effort of Anthelion School of Art and I wish them my very best for their future ventures."- said Mr. Niranjan Pradhan. Shashi Prabha Sharma, the Co-founder & Proprietor of Anthelion School of Art greeted the entire gathering and congratulated the students for their sincere efforts and hard work. Shashi Prabha Sharma said- "I can't be more overwhelmed seeing how talented our students really are. The credit goes to their hard work and also to our mentors who are teaching them with acute perfection and care."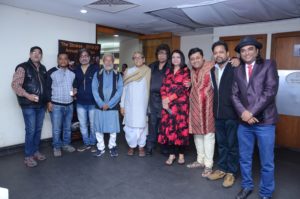 People were seen flooding through the corridors of Jamini Roy Art gallery at the second day of the exhibition. Everyone was exclaiming in wonder how unique each artwork was.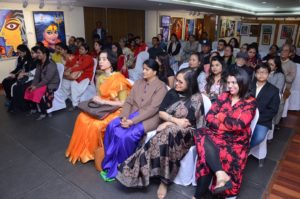 The maximum size of artworks was of 4ft by 3ft canvas. So much of versatility was seen in one exhibition of one Art school's students like never before. An anthelionite named Sonali Smith experimented in the medium of water colour with alcohol; which gave a unique tainted look to the painting. "This is my first experimental work and Anthelion encouraged and supported me to bring out the artist in me. Without my mentors this wouldn't have been possible"- she said.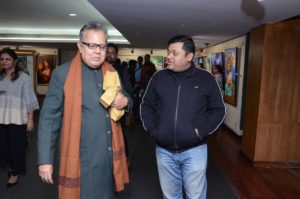 The closing ceremony on 12th January was more majestic. People like Mr. Prithviraj Sen, famous Bengali writer & author of Guinness Book of World Record fame, Bengal's beauty pageant & Mrs. World Perfect 2019 Mrs. Suparna Mukherjee and famous artist and sculptor Mr. Debashis Mullick Chowdhury, founder of Montmartre Art forum, Kolkata- sparkled the closing ceremony in their own unique manner along with the mentors of Anthelion School of Art – Mr. Anjan Bhattacharya, Mr. Prasanta Chandra & Mr. Mihir Kayal.
Writer Prithviraj Sen, said- "I consider myself privileged to be here. Witnessing how deeply talented the students are giving me goose bumps. I will request them to carry on and thank Anthelion to step forward in enriching the art-culture of Bengal. They have my full support in their noble aim for making and shaping artists of tomorrow."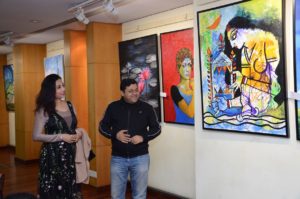 "I am not from the art background, but I believe that every painting talks with the viewer in its own way. And all the artworks, present here are so relatable and communicative. Colours make our life beautiful and being here this evening gifted me positivity and peace of mind. I want to congratulate the students and the family of Anthelion School of Art from the bottom of my heart."- said Suparna Mukherjee.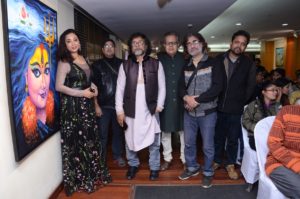 The students received mementos, certification as their achievements.  Mentor Anjan Bhattacharya exclaimed in pride- "I consider myself lucky to be a part of this art school. Our students are growing each day. They are improving and opening themselves to every kind of experiments. More glorious days are waiting ahead of us."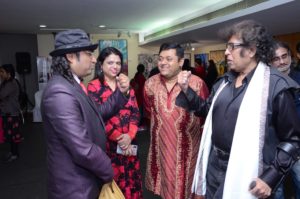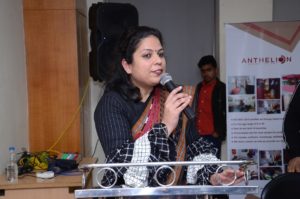 The students were happy and full of joy getting such an opportunity. Anthelion's playmaker Dipayan Banerjee concluded the exhibition saying- "When Shashi & I decided to start this school, we wanted to provide such a platform where age, background, experience will no longer be a barrier if one solely want to learn and cherish art. Success of our second annual exhibition proves that all of our hard work has started to pay off. We not only concentrate on making and shaping artists, but we also try to create a market for their artworks so that they can get what they deserve. Our aim is not only to sell their product but also to make people understand the value of their ideas. Anthelion has a lot to improve but one thing I can proudly say is that there is a great advancement in the maturity of our student's works and we all are sticking tightly together as a family to achieve that improvement and take Anthelion School of Art to the global stature."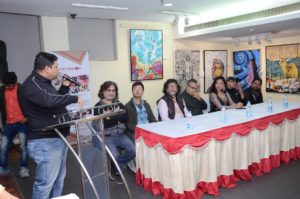 As their next venture Anthelion School of Art will be focusing on illustration from February onwards. Also, they're going to start with workshops of an exceptional speculation; where students will be painting based on themes from the field of cinema. Seems like, Anthelion School of Art will leave no stones unturned when it comes to creativity as well as art.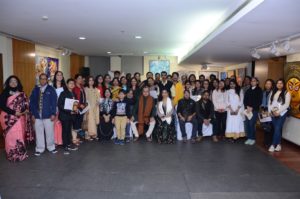 Please follow and like us: