Tripura calling……

— by Dr. Madhumita Mukherjee
(Reading Time: 14 min Approx)
If you want to escape monotony, taking a break from your usual chores of work, Tripura wildlife, mingled with its ancient rock sculpture of Unakoti can be thought to be an ideal retreat.
OFF TO TRIPURA
Director of Tripura, dept of Fisheries, invited me (Executive Director of National Fisheries Development Board) to visit the state for N.F.D.B assistance. I confess to initially having been reluctant to accept his kind invitation, as I felt that my visit would have limited relevance for the development of fisheries in the state. However, on reflection, I decided to accept it, as I thought such a trip might enrich my sensibility with the unseen beauty of Tripura. And oh, once again, I dusted off my old medium size suitcase, my notebook, camera and made my way to Tripura on a bright Sunday afternoon.
LANDSCAPE ORIGIN, CULT
The State of Tripura is endowed with natural landscapes of hilly terrain, green vegetation, flowing rivers. The ethnic diversity of the State also offers diverse lifestyle and culture. There exist two beliefs of the origin of the state of Tripura.
This state previously extended till the Bay of Bengal. Hence, "Tui" means water and "Pra" stands for soil. These two words together create "Tuipura" which later on became the Indian state of Tripura. According to Hindu mythology, this is one of  the sacred places related to the  Goddess Durga ( also known as goddess Tripurashori),.a pilgrimage  among 51 such sacred places,( called 51 piths).Located in Udaypur in Tripura, which was its first capital, it was later on shifted  over  to Old Agartala. As of now, it stands as the new capital of the state called New Agartala
THE LAKE CITY
The region is strewn with many temples, as well as beautiful water bodies like Amarsagar, Mahadebdighi, Jaganathdighi. This is why the city is fondly called the Lake city.
Goddess Tripurashori
The Goddess Tripurashori is said to have her other half or soul mate in her "vairob" called "Tripuresh" His temple graces the bank of a lake called Mahadebdighi. Hence, it is after the name of that lake that the temple is called Mahadebbari (house of God Shiva).
TAGORE AND TRIPURA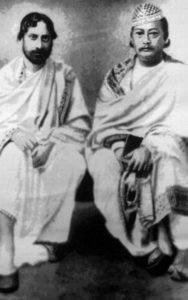 Rabindranath Tagore often visited Tripura, the royal rulers of which admired him greatly The great poet had been conferred the special title of "Bharath Bhaskarby king Vir Vikram Kishore Manikya" of the Manikya dynasty of Tripura. Although Tripura was reigned by several different dynasties at that time, it was only with the Manikya dynasty that Tagore was known to be close. This dynasty begins with Virchandra Manikya and ends with Birbikram Manikya,. It was during this period that the great Indian poet had visited Tripura several times.
Tagore's relationship with Tripura and the rulers of the Mainkya dynasty is the topic of much research, because of its relevance in literary history. Many a scholar from the Viswa Bharati University has done great work on the subject, volumes having been written on it
A special grant for such research work has been approved, too for a magazine called "Bharathi" as well as good amount for a famous institution called "Bosu Bigyan Mondir" founded by the eminent scientist Jagadish Chandra Bose.
AGARTALA, CAPITAL CITY
Agartala with its ancient architectures, of superb beauty temples, museum, the Ujjayanta Palace, retreat at Akhaura, Light and Sound show and modern structures of University, Vidhan Sabha, the Secretariat and the Heritage Park is indeed a tourist attraction. Sepahijola, Nature Interpretation Centre, Zoological and Botanical gardens, Rung Tung Ecopark, Melaghar, Sagar Mahal, Neer Mahal, Belonia, Trishna Wilelife Sanctuary, Pilak for Budhhist and Hindu ancient temples, Mahamuni Budhhist Pagoda, Basundhara and Paratia Forest Guest Houses at Sabrum and Udaipur, Kalpania Nature Park, Matabari Tripureswari Temple, Tepania Eco Park are some of the places worth seeing, as well as . South Tripura and Gomati, Baramura Eco Park near Teliamura, Unokoti and Jampui hills are fascinating too. The oranges of Jampui hills are famous for flavour, nutrition, aroma and quality. It is because of the limestone layer inside this hill that the oranges grown here are so succulent and unique in taste.
The typical topography and demography of the State with a sizable population of tribal people from as many as 19 communities of varied traditions and cultures, presents a plethora of thrust areas. Because of seven almost parallel hill ranges dense with forests and rivers occupying the valleys between two adjacent hill ranges dotted with tribal hamlets provides a mesmerising landscape for tourists to view and sink in the pristine beauty of nature.
GIANT ROCK CARVINGS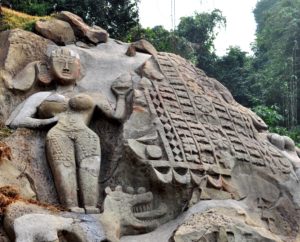 Chabimusa is famous for its pommels of rock carvings on the steep mountain walls on the banks of Gomati. These are huge images of Shiva, Vishnu, Kartika, Mahisasurmardini Durga etc. These images date back to 15th-16th centuries AD. The hill ranges are covered with thick jungles. The road leading to the riverbank, where the rock carvings exist is itself a treat to the behold. The images of Mahisasurmardini is carved at a height of 10 metres from the riverbed. The local tribe worshipped it as Chaknak- Ma. The image has a height of 10.70 metre and a width of 7.70 metre. A Goddess with ten arms, she is seen to be holding weapons in nine arms except for one hand with which holds the hair of a demon King.
Location:82 km from Agartala, 30 km from Udaipur
Unakoti: Tripura has beautiful rock cut carvings and stone images at Unakoti. It is a "Shaiba" pilgrimage that dates back to 7th-9th centuries. Unakoti means one less than a crore. Among the rock cut carvings, the central Shiva head deserves special mention indeed. The central Shiva head, known as "Unakotiswara Kal Bhairava" is about 30 feet high, with an embroidered head-dress atop it which itself is 10 feet high.
Location: 178 km from Agartala –
8 km from Kailashahar, district headquarters of North Tripura district. Sepahijhola wildlife sanctuary is truly the biodiversity heaven of Tripura with an area of 18.53 km.
BOUNTY OF NATURE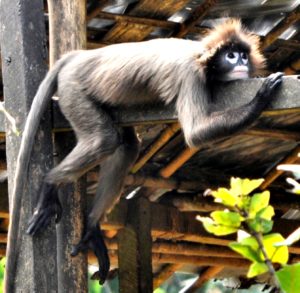 The sanctuary has no less than 456 kinds of flora and fauna. The moist deciduous forest is the habitat of different species of primates like spectacled monkey, capped languor, pigtailed macaque and several other wild animals like leopard, clouded leopard, civets, barking deer etc. The pretty big zoo nestled in the midst of lush green woods of Sepahijala is a great place for nature lovers. It is surrounded with artificial lakes, moist and deciduous forests. However one cannot deny that the increase in human population is somewhat   threatening to these beautiful forests Another attraction here is the spectacular view of coffee and rubber plantations,  apart from the different primates and the avian population all around .Previously there was no cultivation of rubber in Tripura, but 50 years back, with the help of the State Govt. the Indian rubber board had taken the initiative to start rubber cultivation in Tripura and presently Tripura is the second largest rubber producing state.
The fisheries dept. of Tripura, too, is doing quite well, producing seeds of pabda fish aplenty in hatcheries to promote this fish culture. There is a great deal of scope for developing local varieties of fish.
MERGER WITH INDIA
The frontiers of India and Bangladesh are not very far from Agartala. The border security of the countries performs flag hoisting and unhoisting rituals like the border Wagha in Punjab In 1947, king Birbikram Manikya declared a merger with the Indian Union. However, it was his successor who signed the final charter.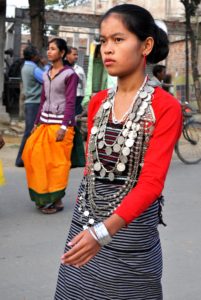 Tripura is a place still unexplored in terms of tourism…hidden treasure for a tourism hub in the Northeast. To feel the essence of these place one must spend quality of time there especially, interacting with locals and losing oneself amidst the unperturbed nature. There are many places to visit in Tripura, which are bestowed with nature's bounty, friendly dwellers with a myriad of options in sightseeing.
MATTER OF CONCERN
It is a matter of concern, however, that the ground water in certain regions in and around Tripura is shrinking up, mostly because of the rubber plantations there. So are the forests gradually diminishing and getting destroyed by humanity. Thus, is the paradox of human civilization, pitted against nature.
Please follow and like us: