Mountaineering in India – Conquering the great heights
(Reading Time: 7 min Approx)
Mountaineering, as an adventurous sport demands lot more will-power along with physical fitness. India, blessed with its range of exquisite mountains has always been forever welcoming to mountaineers and travelers around the world. The Doon School (a boy's only school) in Dehradun played and evident role, being the pioneer of mountaineering in India. Initiated by the school authorities and students, a team of Doon School set their foot on the secluded range of Himalaya on 1940's. And here we all are now, exploring and embracing hills with awe and wonder.
Now, those of you, who feel the same and already are planning for your mountaineering trip in India; here are 5 light-weighted and useful advises to carry with your backpack before setting off for the hills.
Don't worry if you're a beginner
There's always a first time to everything. Don't be scared if this is so. I know mountaineering is not just a piece of cake but with will-power and a little attention to the details can make it an achievement. The first and foremost thing to keep in mind is that- Speed doesn't count, consistency does. So take baby steps and don't lose hope. Also, if you're going with travel camps you'll be guided well by the team leaders. In case of self-planned trips, choose your travel buddies wisely. Surely, you won't feel comfortable if they all panic and worry you out. Keeping calm and being determined will help you out thoroughly.
Be the smart luggage packer
Packing light is the common rule when going in mountains but it's time to pack smart as well. Focus on light-weighted cloths that can provide warmth as well. For example, a pair of body-inners can be your best friend. It's proven scientifically and also recommended by mountaineers all over the world that body inners help to balance the body warmth in the topsy-turvy temperature on their way of climbing mountains. Carry dry packaged food to feed yourself during the energy draining walk. In short, take what's you'll need not what might be needed.
Health care and self-care
The basic fear of setting for mountaineering is the 'High Altitude Sicknesses' (nausea, difficulty to breathe, light-headedness etc.) It doesn't have to be your first time to feel sick while climbing mountains. Human body takes time to adopt and adjust to the high altitudes. Thus, if you feel any of the following symptoms during the journey don't shy off to tell your group leader or team mates. Suppressing the health issues will only make it worse for you.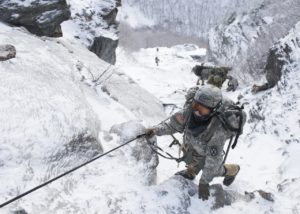 Dress yourself to be mountain ready.
This is a journey you'll remember forever. So, to cherish it to the core be comfortable with you and with what to wear. I have already hinted how important body inners are but there's one another important thing that needs your attention: Shoes.
Approach shoes can be that friend who got your back. These climbing shoes can be bought at any online shopping sites or from any known shoe brands. Also to be more protective for glacier and snow walking; crampons are huge help and available at any online shopping site. Few mountaineering devices can be needed too, such as- rope, mountain gears, hand & leg guards to prevent frost bites, ice pitons, rock pitons etc.
What about a short mountaineering course?
There are various schools all over India, who provide short-term mountaineering courses. They give basic ideas on the do's and don'ts of mountaineering. Some mountaineering schools run by Central Govt. of India are-
Himalayan Mountaineering course (Darjeeling)
Nehru Institute of Mountaineering (Uttarkashi, Uttarakhand)
Atal Bihari Vajpayee Institute of Mountaineering and Allied Sports (Manali, Himachal Pradesh)
The following schools have army trainers to provide practical preparation and to train the future climbers with various kinds of challenges during their expedition.
Last but not the least that inner adventurer in you; is enough to gift you a speechless experience. With right planning and precautions, meeting the mountains can make you feel like meeting your soul. The vastness and chastity of those head held high eternal rock bodies never fails to portray them as one of the magical creation of Mother Nature. Now, buckle up and set off to your journey of a lifetime. Wish you all the best!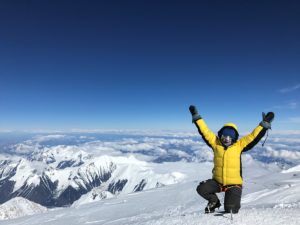 Please follow and like us: