PANDIT UDAY BHAWALKAR…in dialogue with…SUBHADRAKALYAN
 (Reading Time: Approx 21 min)
DHRUPAD GURUKUL
Uday Dada has spoken at large about his childhood and how music impacted upon his childhood. I would be curious to know how he started his life with Dhrupad. The conversation went on in a different course where he mentioned how he was introduced to Dhrupad in a most extraordinary way.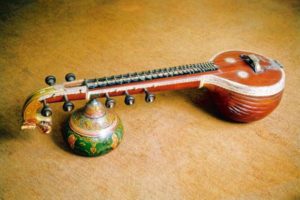 How were you introduced to Dhrupad?
"It was when I completed my higher secondary education and started going to the college, I was first introduced to it. I told you, the neighbor in our locality would share newspapers and that would be a very common factor. Back then, people couldn't afford to buy more than one newspaper; so, if someone wanted to read a second opinion, he would share the other newspaper with his neighbor. In the year, 1981, one day, as I visited my neighbor to borrow the newspaper, I started flipping through it sitting there; I never read the newspaper in detail then, neither do I do it now; when I came across an advertisement that the Dagar Brothers ran a music institution in Bhopal where applications for admission were being called for.
Bhopal was far from Ujjain…almost two hundred kilometers…but I wished to go there. When I asked my parents for permission, they did not even think for even a minute and allowed me to go. I told you, those days, people would not think much about anything. They would love to remain perfectly simple and would be least bothered about anything under the sun. For me, shifting to Bhopal would mean a stoppage to my academic education; that too didn't seem to bother my parents. Once I asked my Guru, Pandit Pramod Shastri, he also consented to my going to Bhopal.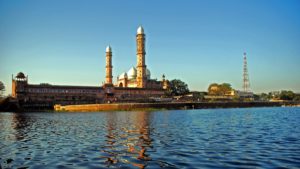 Once I shifted to Bhopal, I started living on my own, being provided with the scholarship, and visited the institution for my lessons. The institution was run by two of the very famous brothers of the lineage of Dagar. I would be trained by Ustad Zia Fariduddin Dagar (Chhote Ustad) and Ustad Zia Mohiudin Dagar (Bade Ustad). The two brothers performed duets all across the world, Chhote Ustad singing and Bade Ustad playing the Ruda Veena. The major part of my lessons would be imparted to me by Chhote Ustad. Bade Ustad would occasionally visit the institution from Mumbai and teach us. Bade Ustad would sing as well but not in public. He would often demonstrate certain nuances on the Veena.
1982 onwards, Bade Ustad wanted me to live with Chhote Ustad, for I would face certain troubles in staying on my own. I lived with Chhote Ustad at his residence and learnt at the institution till 1985. These four years were a treasure for me.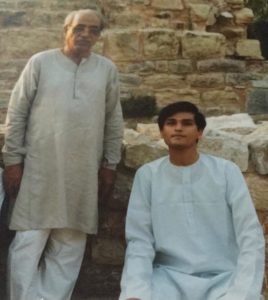 After the course of four years was over, I felt, I was not happy with what I learnt and that I wanted to learn more. The music that I learnt there was like some unearthly experience and I looked forward to have it once again. When I told Chhote Ustad that I wanted to learn more and more, he told me to wait until his institution (Dhrupad Gurukul) in Mumbai got ready. My course ended in December, 1985. For the next six months, till June, 1986, I waited in Ujjain and they went abroad to participate in the Indian festival. Upon returning to India, they called me in July.
My going to Dhrupad Gurukul was as amazing as anything else of my life. I had got my train tickets from Ujjain to Mumbai reserved but all of a sudden, on the day I was supposed to leave, I was out of my mind and forgot about the train. One of my neighbors came to my house and reminded me of the train and I hurriedly packed my bag and rushed to the station with my luggage and the Tanpura.
What is more amazing, when I reached Dhrupad Gurukul, I realized, it was the day of Guru Purnima, the Vedic teachers' day.
This is extraordinary!
 "Yes, it is. My first day in the institution was the day of Guru Purnima!"
Why did you shift to Dhrupad?
"It wasn't a question of shifting. I was not singing Khayal properly. I did not know about the schools of Khayal such as the Jaipur School or the Kirana School. And, I was altogether quite young to know about them all. I just wanted to learn how to sing. I never intended on learning what School of Music I was being taught. At that point of time, if I had got the opportunity to learn Khayal instead of Dhrupad, I might have practiced it.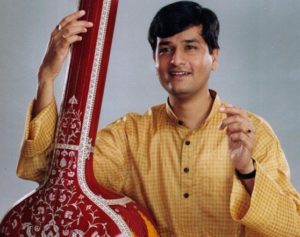 When I started learning Dhrupad, some people critiqued me, for they believed, Dhrupad was less heard than the other forms of vocal music. But again, my intention was just to learn how to sing and I never bothered myself about the form I was learning.
For me, the Sur and the Laya are the forms of truth. There might be many other technical definitions to them considering the frequencies and all. But I have always been concerned about how deep I can go into them. It's like the study of blood that I once saw in Boston. They go much deep into it and study the antigens and antibodies."
Who were all the students there in the Gurukul in Bhopal?
"When I was used to learn from my Guru in Bhopal, we were altogether five students, all of whom were sponsored by the State Government, for, the institution itself was sponsored by the State Government. Apart from me, there were the Gundecha Brothers and two other women. Unfortunately, both the women who were learning suddenly gave up singing and got married.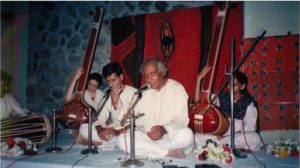 You see, I never expected, when I would ask Chhote Ustad if I could come to Mumbai to learn from him, I would be allowed. I was ready to leave my home to learn and stay anywhere else, but then again, one day he called me and said that I could live with them at his residence!
Once in Mumbai, I applied for the scholarship. When I was in Bhopal, I would be provided with scholarship, but in Mumbai, there wouldn't be any scholarship until applied for it. I applied for the national scholarship and I enjoyed it for three years. It was 400/- per month. Apart from that, I used to teach a little bit as tuitions as I was suggested to do so, by some of the senior disciples of Ustad. All these gave me some pocket money to buy the necessities like the cloths, the towel, the soap and the likes. Ustad was already allowing me to stay with him, providing me with food and teaching me. What more could I ask of him? By the way, my parents too supported me. I would rather look forward to save a paisa or two. Even the very little amount of money I saved would be valuable for me."
How was the way of Chhote Ustad or Bade Ustad teaching you?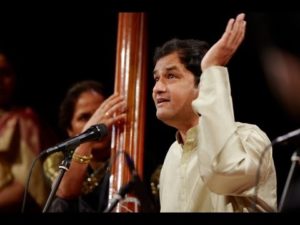 "There is no such prescribed process of learning. For me, being with Guru, watching him, observing him is a process itself. I had no idea of what they would teach me or how much they would teach me. And I never dared to ask them to teach me anything I wanted or anything new. I always knew I had nothing to ask them to teach me. I would religiously practice whatever they taught me. As I said earlier, it is all the observation needed. I would quite closely observe how they lived the life, how they spoke, how they tuned their instruments or how they sang. I loved to live in the feel of it.
Early in the morning, we would practice the exercises for lower octave, or Kharaj. After that, we would practice some other exercises on the three octaves, or Palta. Next, we would be taught the compositions, or the Bandishes. At times, Chhote Ustad would instruct us to sing the Alaap; the introductory slow unfolding of Indian melodies; of some raga. It would be difficult for us to start. However, Ustad would show us the way."
Would you sing for the concerts then?
"I first sang publicly in 1985, when the Gurukul in Bhopal showcased us as the young talents. The event was named, 'Uttaradhikaar'. After that I sang in the Dhrupad Festival in Bhopal in 1987, where Ustad Nasir Aminuddin Dagar heard me sing and announced, he wanted to gift me a gold medal. In 1989, I sang at the Tansen Samaroh in Gwalior. This was it was all working. Learning and performing would go on simultaneously."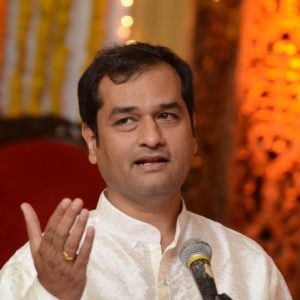 Could you share with us some of the anecdotes that could throw a light upon your relationship with your Guru?
"Chhote Ustad would gently wake me up at 4 in the morning. Sometimes he would scold me as well. I would always be obedient because I had a fear for both of them that emerged from a reverence you possess for someone.
I remember, I had a habit of eating sugar. Every two or three hours I would go to the kitchen and would eat sugar. Ustad would know that (smiles).
I would particularly mention two incidents. The first one was sometime during the late 80s. Once it so happened that, Bade Ustad and I travelled by train from Mumbai to Shivamogga to perform for the concerts of SpicMacay. Shivamogga is a very culturally rich place in India. We reached there at 5 in the morning. The station was an open with no shed. There were a lot of stations like that in India back then. It was the month of October and the weather was quite pleasant. Bade Ustad was quietly seated on a bench watching the sunrise.
On a sudden, I reminded Ustad that nobody came to receive him at the station. He was quite reluctant, whereas I was a bit upset. After half an hour, some officers came running to receive him. Having come late, they apologized and said, they were confused with the time of arrival and all. In response to whatever they said, Ustad just said, "Humlog chale? (Let's go then!)" and nothing else.
This taught me a great lesson. I see many people to get impatient when they are not attended properly, but just see how Ustad reacted to the entire incident! He understood, the delay wasn't intentional. He could feel the trouble faced by the ones who came to receive him. This is a lesson I have preserved for myself.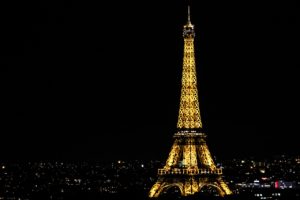 The second incident was in Paris. When I accompanied Bade Ustad to Paris for the first time, I expressed my wish to visit the Eiffel Tower. Somehow or the other, he didn't let me go. When for the next time I went with him there, again I was not let go visit it. Once again this was repeated for the third time when Ustad didn't let me go to visit the Eiffel Tower.
You see, when you are close by your Guru, you get to learn a lot of things from him. I somehow feel now, he didn't want to part with me because going to the Eiffel Tower and returning back would have consumed time. Instead of that if I stayed with him and learnt, that would help much. Later, I could realize, he didn't want to let go of me as a couple of months later, he passed away."
"How can one tell when a person would die?
In the morning of the day of the death of Bade Ustad, we had breakfast together. Two days later, I had a train to Jabalpur for a concert. Ustad was living in Chembur that day. In the morning he complained of stomachache that could have been a resultof gastritis. I asked his permission to go to Panvel to get my clothes and all from his residence there. When I returned it was 4 in the evening and he had already passed away at 1.30 in the afternoon. The telephone was dead, so there could be no communication."
"I really find myself fortunate to have learnt so many things from them. It would be such a nice time being with them. And among all others, I stayed with them for the longest time period."
How long did you stay?
"I stayed with them for twelve long years."
Uday Dada paused and took a deep breath…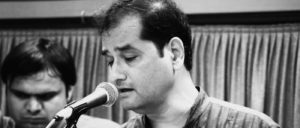 The second part of the interview ends here. It could well be deciphered; he had a very deep reverence for his Guru. In the next part, we will know about what Dhrupad is, how Uday Dada interprets Dhrupad and what magic he creates in it – the magic that binds us all into the great music he creates.
Please follow and like us: