– (Reading Time: 12 min Approx)
Next morning around, 11 o'clock Sunetra got down at Trivandrum Central, railway station. The cool breeze and greenery all around whispered to her ears – "Welcome, Sunetra! Kerala was waiting for you".  She opened her dairy and checked out the list she made last night on train. Her eyes sparkled as she realised this is going to be an experience of her lifetime.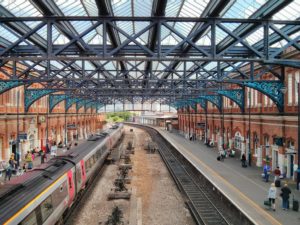 Sunetra started walking towards the exit. Trivandrum central is a quite long railway station. The railway station is located opposite to Central Bus Station Thiruvananthapuram at Thampanoor in the southern-central part of the city. Trains from here connect the city of Thiruvananthapuram to major cities of India. Sunetra always heard about Kovalam beach. As she reached the exit, Sunetra started looking for a cab from the station.
An old driver came to Sunetra and said- "Welcome to Kerala madam. Where do you want to go? Tell me, I will take you."
Sunetra said – "I wish to go to Kovalam beach. How far is that from here?"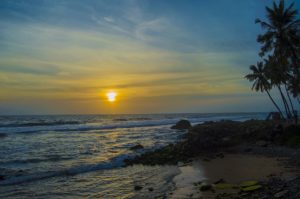 "Not that far, only 18 km"- the cab driver said.
Sunetra hopped into the car and the driver placed her luggage inside. What a pleasant morning! Sunetra thought to herself. The view was breath taking.
"I had no idea that Kerala is so beautiful"- Sunetra said to the cab driver.
"Thank you, madam, myself Gaurang. Parents named me Gaurang thinking I will get a wife like Gauri but see my luck…65 years still a bachelor!"- He started laughing loudly.
It took hardly 15 minutes to reach Kovalam beach. Sunetra started walking to the shore. The sea waves were so big and loud. Sea is like life- unfathomable, deep and full of mysteries, Sunetra thought to herself. You can never predict the sea waves. Sometimes they end up touching your feet and other times washing you away.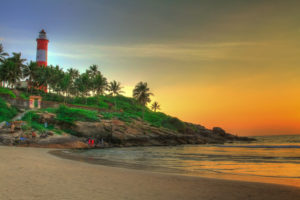 While walking Sunetra saw a little wooden house standing at the east coast. Subdued classical music could be heard from there. She started walking towards the house. When she reached there, she saw a middle-aged woman was dancing on the small roof of that single story house. Her mudras and postures indicated that she is a 'Mohiniyattam' dancer.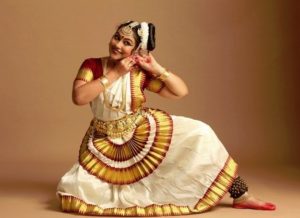 Seeing Sunetra she smiled at her and said- "Hello, would you like to come up?"
Sunetra smiled and nodded at her. She came down and opened the door.
"Please come in. I am Vanumati."- she said.
"Sorry to barge in like this…I came here hearing the music. I am Sunetra. I work as an independent travel blogger. "- said Sunetra.
"Oh! Wow! Please come in." – Vanumati showed her the way inside.
They sat on the balcony facing the sea. The maid served her Panakam (made with lemon, water and dried ginger) and Poovada (traditional sweet snack in kerala). Cool breeze was playing with their hair as they shared laughter and stories about themselves.
Vanumati is a local residence here. She was in love once but never got married. And after the death of her parents she inherited this house. Now she spends her days teaching students as a Mohiniyattam and enjoying the sight of the sea.
It was a perfect opportunity for Sunetra. She asked Vanumati – "Would you mind giving me a tour of this dance form with your exciting stories?"
Vanumati seemed more excited and exclaimed in joy – "Sure, I would love to".
They spent the entire afternoon and the evening talking and cherishing their soul passion for dance. The more Vanumati spoke the more Sunetra got startled. She couldn't believe how enormous yet profound history 'Mohiniyattam' is carrying all these years.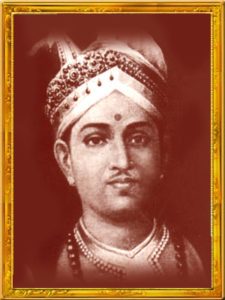 It is believed that this dance form originated in the 16th century and took off eventually in the 19th century under the reign of Swathi Thirunal, who was the king of the state of Travancore, which is the Southern part of Kerala. Under the sovereignty of Swati Thirunal, this dance form achieved great reputation, and the king left no stone unturned to promote the study and practice of this dance form. In addition to that, a popular poet from Kerala, Vallathol played a pivotal role in popularizing this dance in the early 20th century as well. The word 'Mohiniyattam', if broken down means exactly what the dance portrays. The word 'Mohini' means an enchantress or a woman who attracts the onlookers with her charm, and 'aattam' means 'graceful and seductive body movements'.
There is an interesting legend behind the true formation or concept of this dance, which is directly related to Hindu mythology and in particular Lord Vishnu, who disguised himself as 'mohini' or in other words the enchantress and did this particular dance to lure the demons away, and to save Lord Shiva.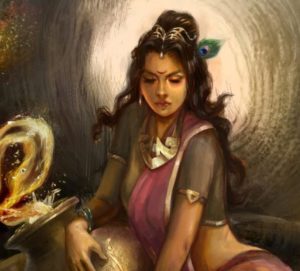 Gracefulness and beauty of a woman are the core components that make up the Mohiniyattam dance. Over the centuries, Indian women have been portrayed as the embodiment of sensuality and poise, and the Mohiniyattam dance celebrates the basic essence of true Indian femininity. The overall costume, makeup and jewellery exhibit the loveliness of an Indian woman.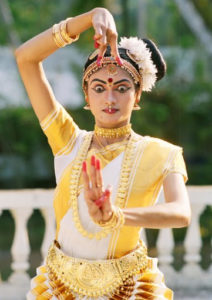 The attire used in this dance form is simple and does not appear complicated, yet it is ethereal in its appeal with a touch of opulence and old-world charm. Vanumati showed photographs of her performance to Sunetra.
"You know, there is only one particular saree used in this dance and that is the famous and much sought after – Kerala Kasavu saree (which is a white saree along with a rich golden brocade border). The Kerala Kasavu saree is one of the finest sarees found in Kerala and the basic blend of colours are the creamy white along with a rich golden border. Simple, yet elegant is well showcased through this saree which makes the dancer look divine and almost dream like."- said Vanumati.
References of Mohiniyattam can be found in the texts Vyavaharamala written in 1709 by Mazhamagalam Narayanan Namputiri and in Ghoshayatra, written later by great poet Kunjan Nambiar.
This dance form of Kerala was structured into the present-day classical format by the Travancore Kings, Maharaja Kartika Tirunal and his successor Maharaja Swati Tirunal (18th -19th century C.E.).
Mohiniyattam lays emphasis on acting. The dancer identifies herself with the character and sentiments existing in the compositions like the Padams and Pada Varnams which give ample opportunity for facial expressions.
The hand gestures, 24 in number, are mainly adopted from Hastalakshana Deepika, a text followed by Kathakali. Few are also borrowed from Natya Shastra, Abhinaya Darpana and Balarambharatam.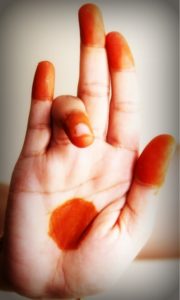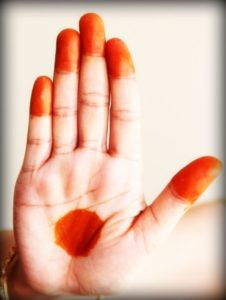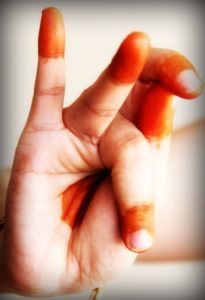 The gestures and facial expressions are closer to the natural (gramya) and the realistic (lokadharmi) than to the dramatic or rigidly conventional (natyadharmi). The traditional repertoire includes Chollukettu, Jatiswaram, Padavarnam, Padam, Tillana and Slokam. Besides these, Pandattam and Omanatinkal (lullaby), introduced by Vallatol are also popular and are often included in a recital. Most of the compositions included in the repertoire have been composed by Swati Tirunal which emphasizes the Sahitya Bhava (the literary content). These are portrayed through appropriate hand and facial expressions that include the nine sentiments.
While talking the excitement in Vanumati's eyes proclaimed her love for 'Mohiniyattam'. Somewhere deep down Sunetra's heart ached a bit. Her golden days flashed in front of her eyes for some time. Vanumati insisted Sunetra to spend the night at her place so that she can witness the dance class tomorrow morning by herself. Sunetra agreed and asked her – "What about another famous classical dance form of Kerela – Kathakali? Do you know someone who can…"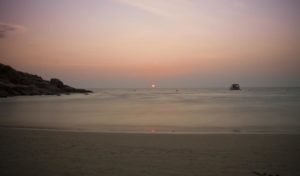 Sunetra's journey has started and she is about to witness the dance culture of Kerala in details. The first day happened quite excitingly and she couldn't wait for more.
Please follow and like us: