Durga 2019
— by Sreelekha Majumdar, Curator of Gallerie La Mere.
(Reading Time: 4 min Approx)
Sri Aurobindo Institute of Culture was built on the ideals of Sri Aurobindo and Sri Maa. There are several departments at this cultural institute where fine arts, music, dance and other art forms are practiced, and the institute is frequented by several well-established personas.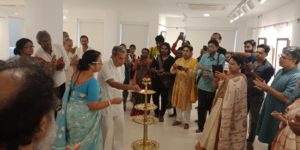 This Institute was established in 1968 by Joya Mitra. Along with music, dance she also wanted to bring about the practice of fine arts. She herself was an artist, and an expert at Classical Music and playing the sitar. Joya Di (as she is fondly called at the institute) was a devout follower of Mother Sri, who was an Impressionist artist. Her artworks were exhibited in the galleries of Paris.  In the honor of Mother Sri, Joya Di established the Gallerie La Mere on 7th January 1995.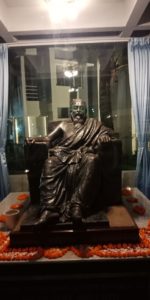 Artworks of eminent artists like Robin Mondal, B.R.Paneshwar, Paritosh Sen, Jogen Chwdhury, Shanu Lahiri, Uma Siddhanta, Niranjan Prabeen, Shuktishubhra Prabeen, Subrata Gangopadhayay, Debabrata Chakraborty and many other found their place at this gallery.
Four exhibitions are held every year.
"Annual" held on 7th January.
"Parama" held on 21st February (Mother Sri's bithday) where mainly artworks by female artists are exhibited at this event.
"Freedom" held on 15th August; the theme being the creative freedom of artists.
"Durga" is inaugurated on the day of Mahalaya. Joya Di introduced the exhibition of artworks regarding Goddess Durga. Artists represent Durga as per their imagination and portray it with their brushes and colors.
Joya Di had another aspiration i.e. to widen the opportunity for more people to view and appreciate art and to cultivate the sense of beauty and aesthetics in the public which she is attempting through these exhibitions. Experienced and novice artists get a chance to showcase their artworks at these exhibitions. Currently her son Mr. Ranjan Mitra is continuing this tradition.
Recently, in the northern part of Baruipur, Kolkata a home was established for the elderly people named "Amartya" so that they can live their life with a renewed vigor and happiness and fulfilled their unmet wishes. There are elaborate arrangements for them so that their leisure time is filled with enjoyment. There is a gallery at this home. All the artworks that are exhibited throughout the year at Gallerie La Mere, are once again showcased at the art gallery of "Amartya".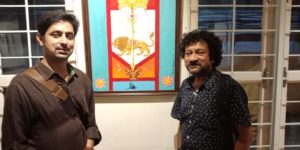 Please follow and like us: