PANDIT UDAY BHAWALKAR…in dialogue with…SUBHADRAKALYAN
 (Reading Time: Approx 10 min)
CHILDHOOD
Meeting Pandit Uday Bhawalkar has always been a great experience for me for the past seventeen years of my life. Uday Dada, that's exactly what I call him, remains and will forever remain one of the few most exotic human beings I have seen, till date. It is needless to describe how it feels to have heard him sing, and the shades of his character will be revealed subsequently.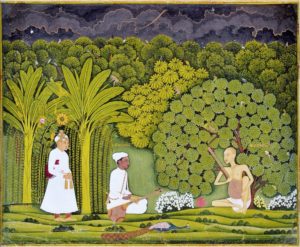 A prophet indeed, Uday Dada has interpreted Dhrupad (oldest surviving classical style of Hindustani vocal music) in a completely extraordinary manner. The exquisite execution of Dhrupad that he has been delivering all through his life has surpassed the boundaries of mere technical expertise and elevated the entire subject to a yet higher level. I stepped into his room and was greeted by him as usual. I touched his feet and greeted him back.
Before the commencement of the conversation, Uday Dada took a deep breath, closing his eyes; and then I said – 
Uday Dada, I have been seeing you for the past one and half decades. Following my observation, I can say, music comes so very naturally to you. Your spontaneity is quite prominent when you perform or when you teach. You have acquired an enormously vast content of music as a whole that you implement into Dhrupad.
Can you please tell us how the impact of music on your life was when you were a child?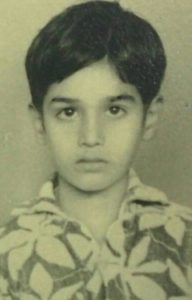 "You see, during the days of my childhood, people were quite simple. Simplicity was one of their major qualities. I too was born in a very simple family. My childhood was spent in Ujjain. My father was a lawyer, and my mother, a teacher at a school. My mother was somehow appointed to teach in a small village near Ujjain, where I was born; we eventually shifted to Ujjain; so, I remember my childhood to have been spent there. We lived in a place where there would be small houses, that we call Wada, all-around a courtyard. It was more like a campus. Among the houses, there was a temple, where we, the kids then, all went in the evening for prayers that would be chanted in Sanskrit." 
You must have been influenced by the melodies of the prayers, right?
"There would not be any melodies as such. But I would be interested in rhythm for the prayers would be recited in definite meters that concerned rhythm. I got introduced to melodies through my elder sister (Didi), eight years my senior, who was a student of vocal music. She would sing Khayal. In those times, not too many people would practically know about Dhrupad. Didi being a student of music, would have the Harmonium, the Tanpura and the Tabla in our house.
A kid as I was, I would try my hands out on them. Upon seeing Didi learning and practicing music, I would pick up what she would practice, such as the short compositions, the Taranas, and some selected parts of the comparatively longer compositions. Didi was a student of Madhav Sangeet Mahavidyalaya, a music institution that taught the Gwalior School of Music. After I grew up a little bit, I joined the institution. Having come back from school, I would play with my friends and then go to the music institution for my music lessons."
Do you remember your days at the Madhav Sangeet Mahavidyalaya?
 "Yes, certainly. I joined the institution in 1975 and was trained there for six years. There were strict disciplines to be followed. We would carry the Tanpura with us; we were to take our mattresses from the room of the Principal and were to keep it back there after the class got over. The events when some guests would come and perform would be memorable for us, students. The ones who would come to perform would not be hugely famous but would be greatly talented. For often, I felt like learning from them all. The top-notch musicians performed at the concerts at Indore, but, I did not belong to a family that would go to other towns for attending concerts.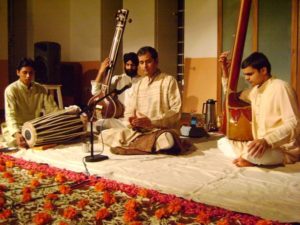 You know what; we all learned to remain satisfied with the little amount of whatever we got. We enjoyed even if it didn't suffice. We never wanted more. I loved the simplicity of the people around us. They were greatly educated with proper values. I learned the trustworthiness and truthfulness of them. People were great friends of one another. One would share their resources with others. If someone visited someone else's house without notice, it would not be a problematic issue but an event for celebration. People were neither worried about the world nor themselves."
 Why don't you tell us about your teachers back then?
"Pandit Pramod Shastri would come to our house to teach Didi and me. He was our main mentor. He was again a very simple man who came to our house by riding a bicycle. Apart from him, I remember Pandit Shriraam Sharma, Shri Hirasing Borliya and…I don't remember his first name…he was Mr. Parulekar.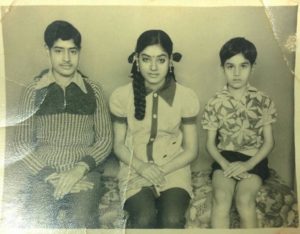 In my childhood, I would sing any music for I would love music. My academic practices on music were going on alongside. The examination that I appeared in when we would be in the fourth standard was called Madhyama. The subsequent course for the next three years would be called Vid that equals today's three-year undergraduate program in the arts. Till then I did not complete my higher secondary examination; for I was underage; so I was not eligible for the degree of Bachelor of Arts in Music then. I achieved it later, having completed my higher secondary examination. Meanwhile, I studied through a Diploma course in music. And, it was after I completed the higher studies in music, studying through what would be called Kovid, the two-year postgraduate program in arts, I was conferred with the degree of Master of Arts in Music.
Whenever we would appear for the practical examinations on music, keeping Khayal aside, we would be asked to sing some compositions of Dhrupad, some of Tappa and some of Thumri. "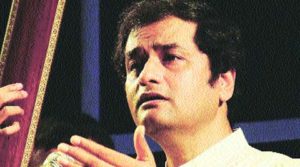 You said Madhav Sangeet Mahavidyalaya followed the tradition of the Gwalior School of Music. Among all the other schools of music, the Gwalior School of Music would be the only one that put equal emphasis on all the genres of Indian Classical music. Particularly, the huge repertoire of the compositions of Tappa that it carries is admirable.
"Right. And, they follow Ashtanga Gayaki, the convention of eight different styles within one tradition."
 Would you be influenced by film music?
"Yes, I would surely be influenced by film music. I would sing them on my own. I liked the songs of Manna Dey, Kishore Kumar, and Yesudas.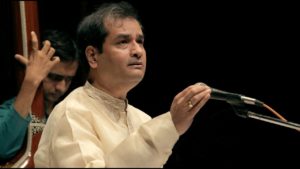 You see, in our times, we would not be bothered much about anything going around us. We would enjoy the flow of time and would live with it. I never thought whatever I sang on my own. I just sang whatever I felt like singing. Not thinking much about any particular thing helped my growth of concentration and power of observation in my later days. Our days were good without TV or mobile phones back then."
Uday Dada paused and drank some water…
Uday Dada's childhood was quite a memorable one for him. The way he became nostalgic while sharing his boyhood days with me was as extraordinary as his singing. The simplicity that he acquired as a child remains within him and that's what leads him to be an astonishing human being. The story of his childhood shall be one of the most interesting ones for many who are left speechless after each of his concerts. However, the first part of the interview ends here. The next part of the interview shall comprise of the event of his starting a new life with the music that has already been instilled within him.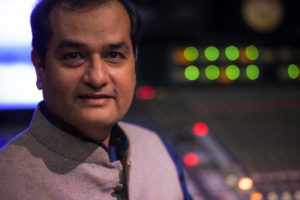 Please follow and like us: